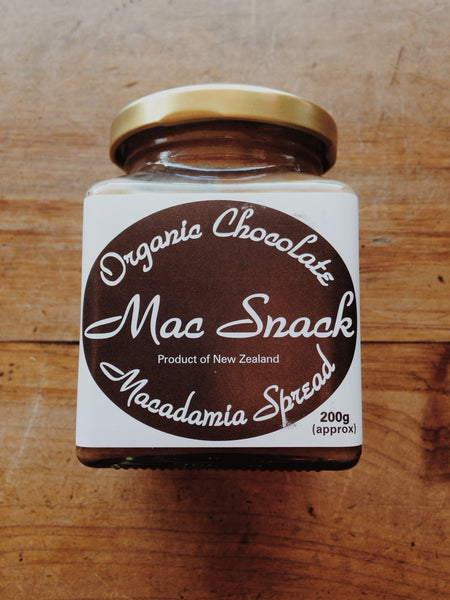 Macadamia Spread Chocolate
---
---
---
MacSnack Organic Macadamia nuts are home-grown at our Bio-Gro orchard in Tikorangi, named "Greenacres" by our great Grandfather more than 100 years ago.
This unique picturesque farm was converted to Organics in stages beginning 25 years ago and became Bio-gro certified in 1995.
Our Macadamia nut and Avocado trees are sheltered with native trees, providing Honey from their flowers and animal fodder from their foliage.
Our father Felix Jury, a keen plantsman, became the first experimental grower of Macadamia Nuts in New Zealand, by importing different varieties from around the world in 1975.
We established a Macadamia orchard of 400 trees in 1978. Sixteen years later a further 800 trees were added.
Sheep keep the grass short under and around the Macadamia trees allowing easier harvesting of the nuts.
Cool Taranaki nights impart a unique flavour in our Macadamia Nuts, making them an extra tasty, health snack food.
From these nuts we create a delicious variety of products including Organic Chocolate Mac Bars, a range of Organic Macadamia Nut Spreads and packets of Mac Snacks naturally roasted Macadamia Nuts. 
---
Share this Product
---
---